About Chill Sack Bean Bag Chairs
Chill Sacks are the most comfortable, stylish foam filled bags available. We have carefully selected Chill Sacks foam from thousands of foams available on the market. Chill Sacks USA foam is less dense and fluffier than foams used in other bean bag chairs, making them softer and less lumpy. With Chill Sacks you won't feel like you're sitting on blocks of foam.
Chill Sacks products have been carefully researched and we stand behind them. From our USA shredded polyurethane foam to the highest quality zippers and hand selected fabrics, Chill Sacks puts quality first. Our seams are double stitched for maximum strength so your Chill Sack won't go flat, break, or leak. This is why we guarantee your Chill Sack will be a fan favorite in your household. We're so certain you'll love it, we offer a 3-Year Comfort Guarantee. 
Chill Sack foam recovers 10x faster than any of our competitors. By day's end your Chill Sack will be fully recovered and ready for movie night. With Chill Sacks foam, there is no fluffing required. Just take the bean bag out of the box and elbow it a little to get the air into the foam.
Relax, take a nap, cuddle, play games, watch TV, and chill with your friends on your Chill Sack. It's perfect comfort furniture for any room. Whether you're a kid or an adult, the Chill Sack is perfect for you!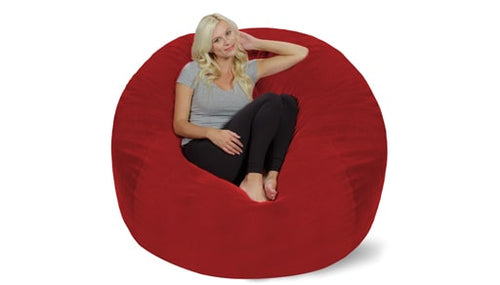 Thanks for shopping at ChillSacks.comwe look forward to serving you.