Entering adulthood isn't always fun, but you don't have to leave behind all the best parts of being a child. Managing the stress and responsibilities of adulthood gets a lot easier when you have a comfortable place to relax at the end of the day.
Bean Bag Chairs for Kids
Kids love them because they're more exciting than a regular chair, but bean bags aren't just for children. Why can't adults take a break from the easy chair and take a seat in something a little nontraditional. Bean bags come in several different types of materials and all kinds of shapes and sizes. That includes adult-size!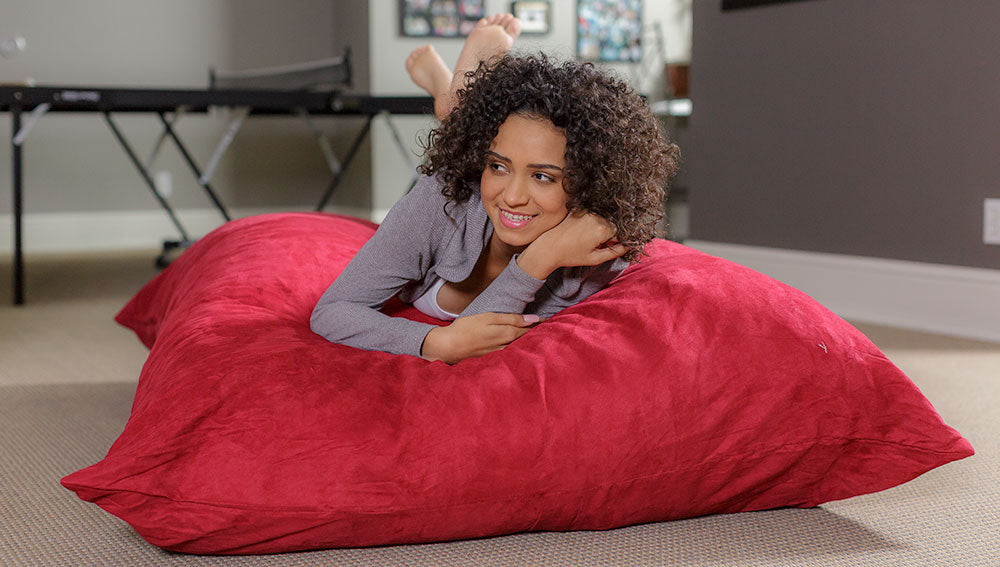 Bean Bag Chairs in All
Shapes and Sizes
Bean bags don't take themselves too seriously. Some come shaped like animals or other playful things. If a toddler is interested in Pokémon, they might want a bean bag that looks like Pikachu or Snorlax. If they're more of a Disney fan, they might like Mickey or Minnie Mouse. Boys might want comic book characters like Spiderman and girls may want Hello Kitty.
The Bean Bag Chair as
College Memorabilia
There's a reason large bean bag chairs are so big. From kids to teens to young adults, bean bag chairs are a great soft spot to relax. College students need a place for friends and boyfriends or girlfriends to hang out in their dorm. There's nothing more convenient than a washable piece of quality, comfortable furniture.
With Cheap Bean Bag Chairs,
You Get What You Pay For
What college student doesn't have money on their mind? The cost of furniture can't break the bank but that doesn't mean you don't want high quality comfort. Checking reviews online is the best way to make sure you're getting the best value for your money. Running out to stores like Target or IKEA (or buying the first option on Amazon) often results in blowing a ton of money on bean bags and disappointment.
Small or Big Bean Bag Chairs?
Depends What Feels Comfortable
College students aren't the only ones looking for a good deal on a comfortable bean bag chair. A nursing mom may want a small, cozy space to curl up in with her babies, whether or not they're hungry. A bean bag that fits like a glove can be just as cozy as a larger bean bag chair.
Whether it's Kids Bean Bag Chairs or Adult Bean Bag Chairs, Quality is King
Original piece of art or overstock sale? Whether you're in it for the deal or looking for quality, aficionados turn to Chill Sacks. Chill Sacks are made with care so you can confidently feature them in any room in your house. Toss it in your barn, den, or living room, and listen for the tell-tale shouts of, "I call the bean bag chair!" Compare our 8 ft Chill Sack to the BigOne from Lovesac and you'll see how we stack up.
The Need is Large: Bean Bag Chairs for Everyone!
Most companies won't think to advertise this, but we know you'll want to know just how oversized our bean bag chairs are before you make a purchase. They're huge and they're the best on the market!